6 min read
Organic Endeavors Awarded HubSpot Advanced Implementation Certification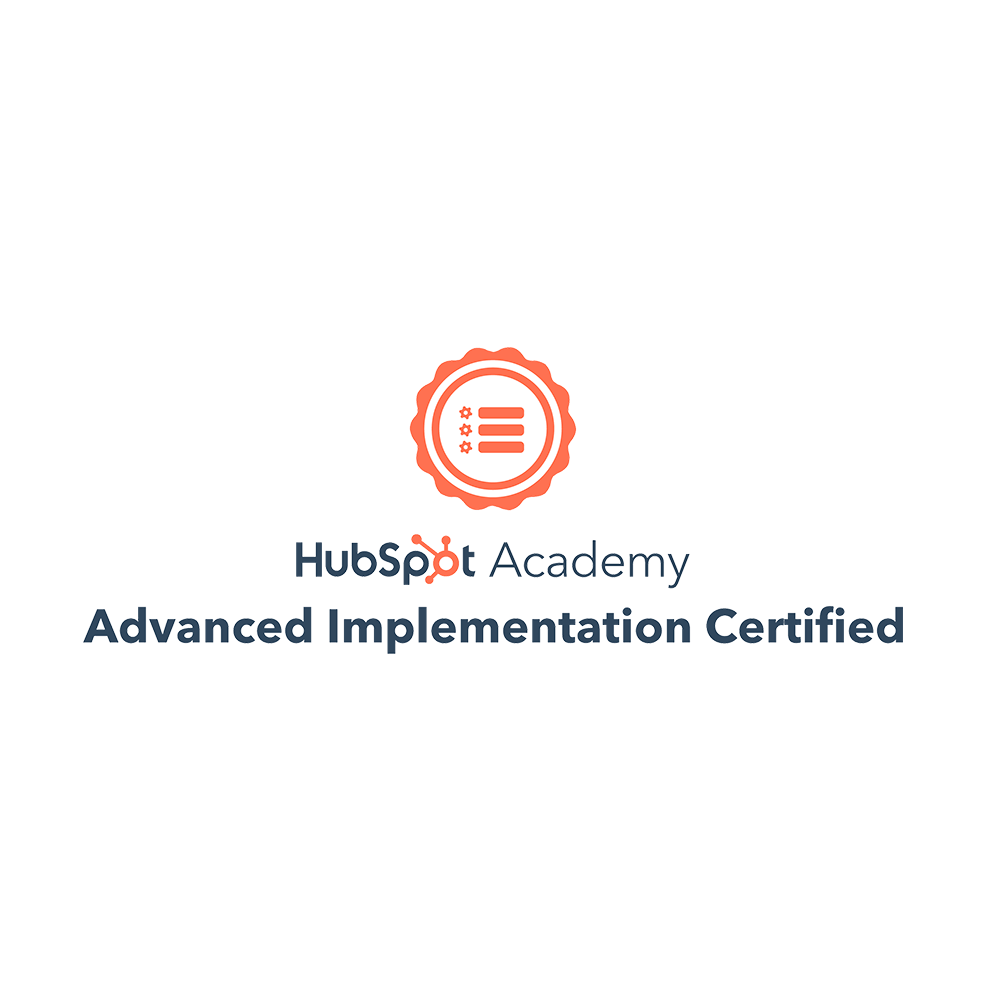 We are over-the-moon excited to announce that Organic Endeavors has been selected to become one of the fewer than 25 HubSpot Solutions Partners around the world to be awarded the HubSpot CRM Advanced Implementation Certification (AIC).
Sometimes, hard work, perseverance and a sense of purpose pays off. For us, it's been a 5 year journey to get to this point, so it's kind of a big deal around here (read more about our story at the end).
But first, what exactly is the HubSpot AIC program?
The HubSpot AIC Program
The HubSpot AIC Program was started last year (2019) specifically to do three things:
Promote the new and improved HubSpot CRM and Sales Hub
Build greater CRM expertise within the HubSpot community
Designate certain partners that specialize in this unique CRM expertise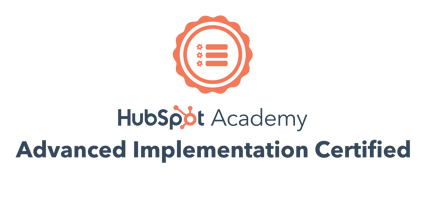 The HubSpot CRM was introduced in 2014, but it has grown substantially since then. In reality, what a lot of people used to consider CRM was originally just pipeline management, but constantly escalating customer experience demands has pushed CRM into supporting marketing, sales and customer success all on a single "customer" platform.
Salesforce has been taking this approach since it developed the "service cloud" in 2009 to complement it's "sales cloud" and then acquired ExactTarget and Pardot to introduce their own "marketing cloud" in 2013. So you can see where HubSpot picked up in that timeline.
HubSpot figured out that it would need to follow a similar path and thus introduced the "Sales Hub" later in 2015 and the "Service Hub" in 2018 to go along with their Free CRM. But, though sales and service are a logical extension of marketing, anyone in the business knows that they can operate much differently in real life.
This is why HubSpot created the AIC program - to help facilitate the implementation of the additional HubSpot CRM "hubs" for their customers who wanted to utilize their full suite of products. In many cases, these same customers would need help in getting started with a new CRM system and/or migrating from another system.
What makes Organic Endeavors a different HubSpot AIC partner?
In the first round of AIC for fall of 2019, HubSpot naturally went to its larger partners and invited them to join the AIC program. But what they found was that a lot of these "full-service" marketing agencies often didn't quite have all the necessary system administration experience with larger enterprise CRM platforms like Salesforce. As a result, they didn't know all the right questions to ask up front BEFORE the migration happened. They didn't understand the underlying data models and the data mapping involved. They weren't as familiar with what was going to be needed to support growing sales teams.
That's where Organic Endeavors was different. HubSpot knew they needed experienced CRM consultants to lead the program and help clients that had been using other systems like Salesforce to be able to understand important trade-offs in functionality and to be able to make the move to HubSpot CRM as seamlessly as possible. Having new clients sold on all the positives without understanding all the negatives doesn't usually make for a happy customer. And, sometimes, Salesforce is the better solution for a prospect.
Because Organic Endeavors has been certified with Salesforce since 2010, and our team has over 13 Salesforce certifications including System Administrators, Developers, and System Architects, we are uniquely qualified to help you choose the right CRM (Customer Relationship Management) for your growing business. We know where the skeletons are buried.
In fact, the incredible feedback we received from the panel of HubSpot AIC judges was that because we had so much experience in the enterprise CRM space and understood the platforms so well, it was quite possibly the best presentation they had seen so far.
How this Impacts Your CRM Implementation Decision
The biggest decision a growing business makes is determining how to best relate to their prospects and customers. You are answering the question: what experience do we want customers to have with our brand and our people?
This means the system with which you choose to "manage" these customer relationships across your marketing and sales teams is likely the biggest IT decision you will make and determines how these relationships will develop for as long as you do business with them (and even beyond if you want a good referral).
In today's CRM market, that means you will almost certainly consider Salesforce (the established leader in the Enterprise market), Microsoft Dynamics, and perhaps even a few others depending on what your sales and marketing process looks like. With the AIC program and a ton of recent product improvements, HubSpot is now firmly on that list of enterprise grade CRMs, which is why we have invested the time and effort to acquire this certification. We believe HubSpot will be, and already is, a game changer in the CRM market.
Why HubSpot CRM is Different
Salesforce started as a cloud-based CRM replacement for Seibel and has grown through acquisition. HubSpot started as a marketing automation platform and has organically grown through the sales cycle towards sales and customer service. Why does this matter? It makes for a more streamlined customer and user experience. And this means you get a smoother growth path toward realizing revenue.
Here's one glaring example: when using Salesforce with any marketing automation platform like Pardot or HubSpot, you are going to be managing three, count them, THREE separate contact databases:
Salesforce Contacts
Salesforce Leads
Pardot Prospects/HubSpot Contacts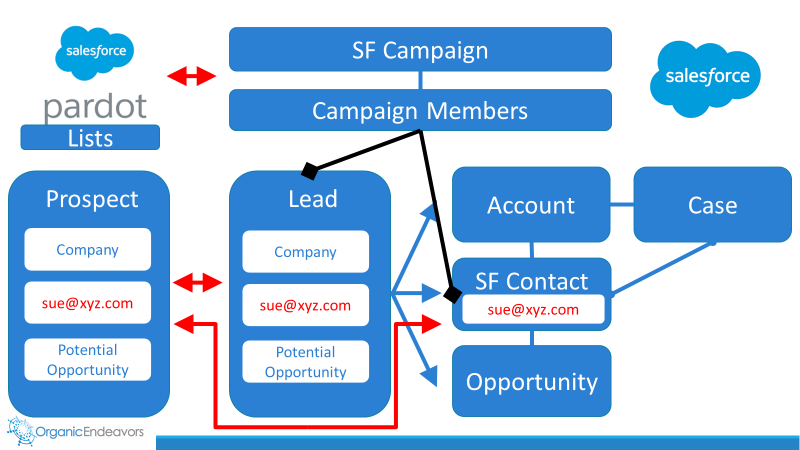 Go ahead and embrace the pun because this always "leads" to a lot of data confusion for any growing company. Which database should we use? How do we report our activities across three different databases? What about duplicate contacts?
Who has time for this when we are trying to grow your business?
HubSpot CRM, because it began life as a marketing automation platform, has a much simpler data model - especially for tracking new leads and contacts. This means it's a lot easier to ramp up your pipeline and you don't have to fool with an integration since it's all part of the same platform. You can easily see the difference: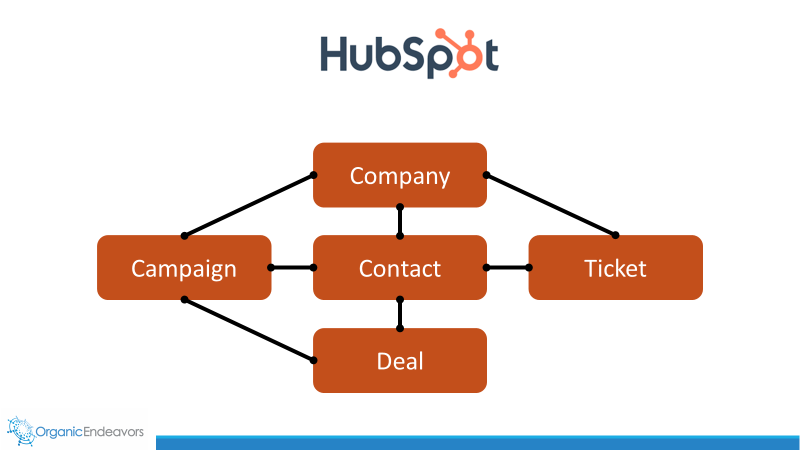 Our Personal HubSpot AIC Story
So, why did it take us five years and what led us here? When we began as Salesforce Administrators as far back as 2007, the constant refrain we heard from the Sales teams we supported was:
"How is this helping us get/win more deals?"
"Where are the good leads?"
"How can I see where these leads came from?"
"I want something that actually helps me sell!"
This is why we started Organic Endeavors in the first place - to pursue a dream that sales and marketing could really only grow better together.
Move forward to 2015 and we had just completed the largest Salesforce implementation we'd ever attempted - a 3 year, $10 Million "Digital Transformation" project for one of the largest telecom providers in the world. We replaced a 2,000-user PeopleSoft CRM with Salesforce CRM across 85 countries.
One of the things we had learned was that having the marketing department simply import hundreds of names into Salesforce as Leads wasn't helping us grow. Sales needed more context around the Leads and an easier way to track and convert them. It was just too much manual work to manage effectively.
It was around this time in 2015, that I met David McNeil, the new HubSpot VP of Partner Sales who'd just been hired away from Salesforce. He told me that HubSpot was about to jump into the CRM game to begin solving some of those same problems and CRM was going to be a big part of the future of the HubSpot platform. So, we decided to jump on the HubSpot CRM bandwagon as Solution Partners.
To be honest, being a specialized CRM agency in the HubSpot partner agency world was tough at first because the HubSpot partner program was all about marketing. The CRM product wasn't fully-baked yet and there were no real programs around sales and the CRM.
This led us to initially focus on integrating the popular HubSpot Marketing Hub with Salesforce CRM where we found a great niche - Marketing and Sales Alignment. The HubSpot Product Manager for the Salesforce Connector, Brandy Asplundh, was especially kind and helpful as she offered to meet with us multiple times to advise on best practices, recent developments, and better ways to configure the integration.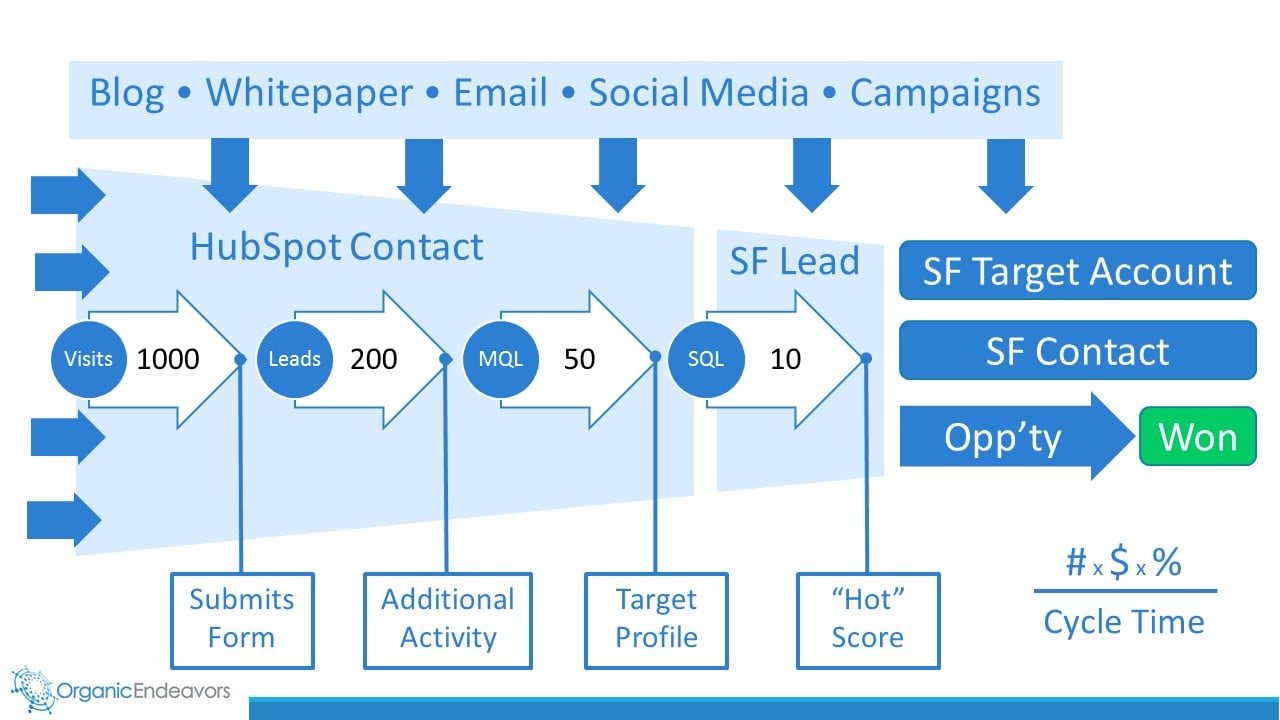 After a couple of years focusing on this area, our outstanding HubSpot Partner Channel Account Manager, Nick Farr, recommended that we look into this new certification program that was being developed internally. He told us this program was tailor made for us, put us on the internal referral list and introduced us to Ashley Cox, the AIC Program Manager who was developing the program from scratch. She mentioned that the first round was already full, but they would be doing a second round in early 2020. We'd need to submit a video application, pass the prerequisite certifications, complete a practicum exam and then defend that practicum to a panel of HubSpot judges.
We spent another 6 months patiently going through this certification process (at the same time of the COVID-19 pandemic) with the invaluable help of our development partner - Jim Gordon.
And finally, at the beginning of August 2020, we were finally notified that we were now officially approved as the newest HubSpot AIC partner!
So, thank you to everyone who helped us achieve this hard fought moment together. You all have played such a major role in this. We can't wait to begin taking advantage of this tremendous market opportunity. It's been a long time coming and I couldn't be more excited!