7 min read
HubSpot And Salesforce renew ISV AppExchange Partnership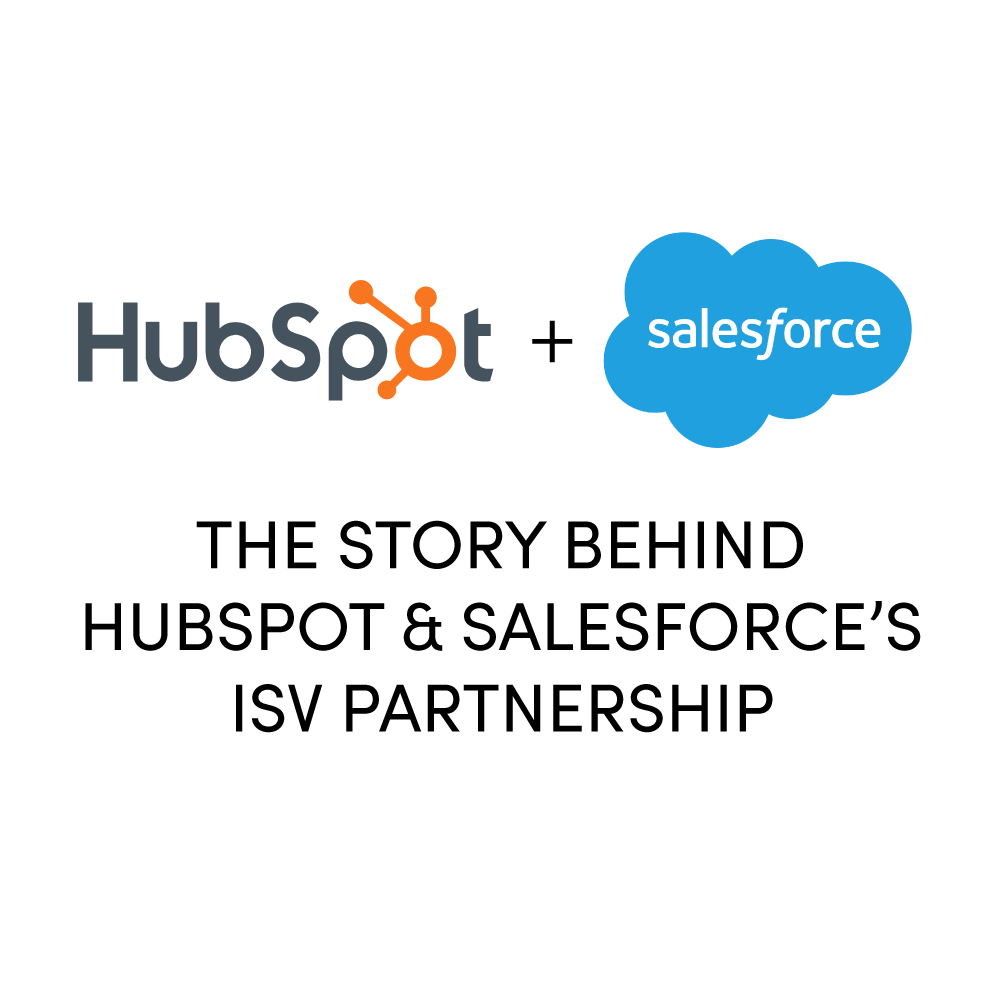 In a surprisingly quiet blog posting on May 13th 2020, HubSpot announced that they have renewed their longstanding Independent Software Vendor (ISV) partnership with Salesforce. In other words, Hubspot's excellent Salesforce Connector app will remain a part of the Salesforce AppExchange ecosystem for the foreseeable future, and that's very important. You may notice, though, that they were a bit coy on the details, but apparently it's a multi-year extension which is great news for those of us who love to use the best Marketing and Sales Automation platform for mid-sized B2B companies together with the most widely used CRM platform in business today.
The History of the HubSpot-Salesforce Partnership
Of course, HubSpot and Salesforce have had a long-standing partnership, that was originally formed in 2007 and was quickly strengthened in 2011 when Salesforce became a direct Series D investor in HubSpot (and many believe became an ongoing suitor as well). The agreement and was last renewed for 5 years with considerable fanfare in 2015, when HubSpot's CEO Brian Halligan himself trumpeted the announcement as "great news for HubSpot, HubSpot's customers, Salesforce, and Salesforce's customers".
That this vital partnership for both companies would be renewed was never really in doubt. What's a little bit surprising is that it has been kept on the down low. The integration "connector" is one of the most popular and highest ranked apps on the Salesforce AppExchange and has been continuously upgraded several times since then. In fact, many users prefer using HubSpot to Salesforce's own integration with Pardot. For example, the HubSpot Connector has the capability to sync not only Leads and Contacts, but you can also sync Companies with Accounts, and Deals with Opportunities (though just because you can do something doesn't always mean you should - see below).
It's not coincidental that when the most recent 5 year agreement was signed in 2015, Hubspot had just launched its own CRM and Sales enablement platform. Looking back, you can already tell that the stage was being set for moving from a cooperative relationship into more of a competitive arrangement, and the previous agreement gave HubSpot a 5 year runway for launching its own CRM. They were already moving toward Salesforce's sacred turf.
And it has taken HubSpot every month of those 5 years to really get to a point of reasonable parity with the Salesforce Professional tier of their Sales Cloud CRM offering. Just recently, HubSpot launched their own Professional and Enterprise versions of their CRM which now includes things like multiple pipelines, user permissions/teams, field level security, calculated properties, products, and there's even a rumor they are working on offering custom objects as an upcoming option. All of these should be considered required features for any competitive CRM to make a claim of parity with an enterprise level heavyweight like Salesforce.
With over 25% of HubSpot Marketing Hub customers (estimated to be over 20k companies) using the HubSpot to Salesforce Connector app , my guess is that HubSpot wanted to continue to do quite a bit more with the integration but Salesforce was not as keen to working together as much as they had previously because they now view them as a legitimate threat. And, as the 800lb gorilla in the CRM market, Salesforce can throw its weight around whenever it wants to.
In fact, Salesforce has a long history of picking and choosing who they want to cozy up with - especially with regards to who and what it wants to showcase as part of it's partner ecosystem. For instance, they've had an up-and-down relationship with Microsoft for decades, and they even swoop in from time-to-time to acquire some of the best known apps for itself - especially the ones that will fill a gap in its own platform (see Pardot, ExactTarget, MuleSoft, SteelBrick etc.).
One of the ways you can tell that Salesforce is maneuvering around your app is in the almighty Salesforce AppExchange search bar. For example, now when you search for "HubSpot" on the Salesforce AppExchange, it doesn't even show up even though it very much still exists. You can't even find a direct link on Google anymore!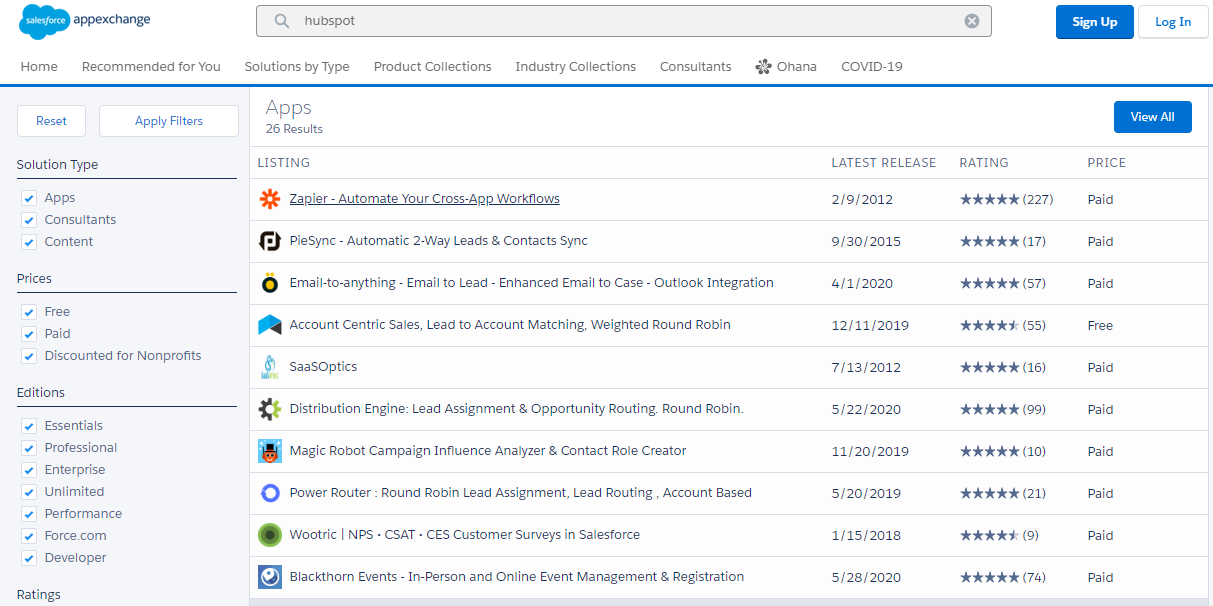 Now, any Salesforce app's place on the search rankings also has a lot to do with exactly what "level" of ISV partnership you have agreed to with Salesforce which also means the amount of revenue sharing and control you are willing to give up to them. You gotta pay to play! So, now, in order to find the Salesforce Connector app itself, you'll have to access it from the Hubspot side of things by using HubSpot Marketplace or from within your HubSpot portal by going to the Integrations area under "Settings". From there, you will find a helpful set up wizard to guide you through the installation process.
HubSpot Salesforce Connector
The HubSpot to Salesforce Connector is really one of the most robust Salesforce AppExchange integrations you can find today for Marketing Automation - if not the most robust. Just a quick look at the data sharing model shows you the depth of this integration. It provides a sync between Leads/Contacts, Accounts, Opportunities and Tasks.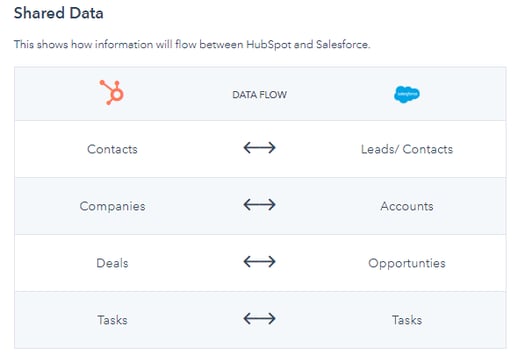 Other than specialized (and expensive) ETL platforms like BedRock Data and MuleSoft, we know of no other Marketing Automation integration with Salesforce that provides this comprehensive of a connection. And, that includes Pardot which is now owned by Salesforce.
This flexibility and depth of the integration allows you to completely customize how you sync HubSpot with Salesforce. In fact, we've worked with clients to develop at least 4 different ways to configure the Salesforce Connector depending on how much you want to integrate, how your sales teams qualify and convert Leads, and where you do most of your Lead Gen and Marketing Campaign reporting (i.e. HubSpot Dashboards vs in Salesforce Dashboards). They are:
Contact Only Sync
Traditional 3-Step Lead Conversion Sync (Leads & Contacts)
Streamlined 2-Step Lead Conversion Sync (Leads & Contacts)
Full CRM Sync (Lead, Contacts, Accounts and Opportunities)
So, all this means you still have a ton of options on how you can get the most from your Marketing and Sales tech stack and if you have any questions about how to better configure your own HubSpot to Salesforce integration, we specialize in helping you customize it for your unique sales process.
Enter PieSync
What will be interesting to keep an eye on is how the recent PieSync integration begins to take shape. If you didn't know, HubSpot made a rare acquisition late last year of a very popular and lightweight synchronization platform called PieSync which allowed a "Contacts Only" sync within a large community of over 230 apps. Think of it as a two-way Zapier platform for Contacts.
The PieSync connector is a somewhat flat (it syncs Lead & Contacts Only) and comes with a cost per contact, but it's broad in that it can be used across multiple platforms. The HubSpot-to-Salesforce Connector comes free with the HubSpot Marketing Hub Professional or Enterprise and goes very deep into the Salesforce data model (Lead, Contacts, Accounts, Opportunities and Tasks). HubSpot really doesn't offer another native integration with any other large CRM besides Salesforce.
So where does this relationship move to next? Perhaps PieSync becomes more the integration layer or connective tissue that Hubspot will use to stay connected with the Salesforce moving forward.
Similarly, HubSpot could begin to position the PieSync branded platform more prominently in the Salesforce AppExchange community? (at least it still shows up when you do an AppExchange search!)
Might you also see PieSync offer more than just a Contact Only sync? Or could the Salesforce Connector be repositioned as an option on the PieSync platform?
Regardless, you should expect HubSpot to continue supporting the Salesforce Connector while also moving into the CRM space on their own. Who knows, in a couple years, if HubSpot continues developing their own CRM, you may not have to worry about integrating at all, and maybe Salesforce isn't too happy about that possibility.
Let us know what you think and if you have any questions about the HubSpot to Salesforce integration. There's nothing we love more than helping get your Marketing aligned with Sales so you can grow together!
Coming Soon: Our Comparison of HubSpot CRM with Salesforce CRM!