13 min read
Inbound for Beginners: Getting Hubspot Certified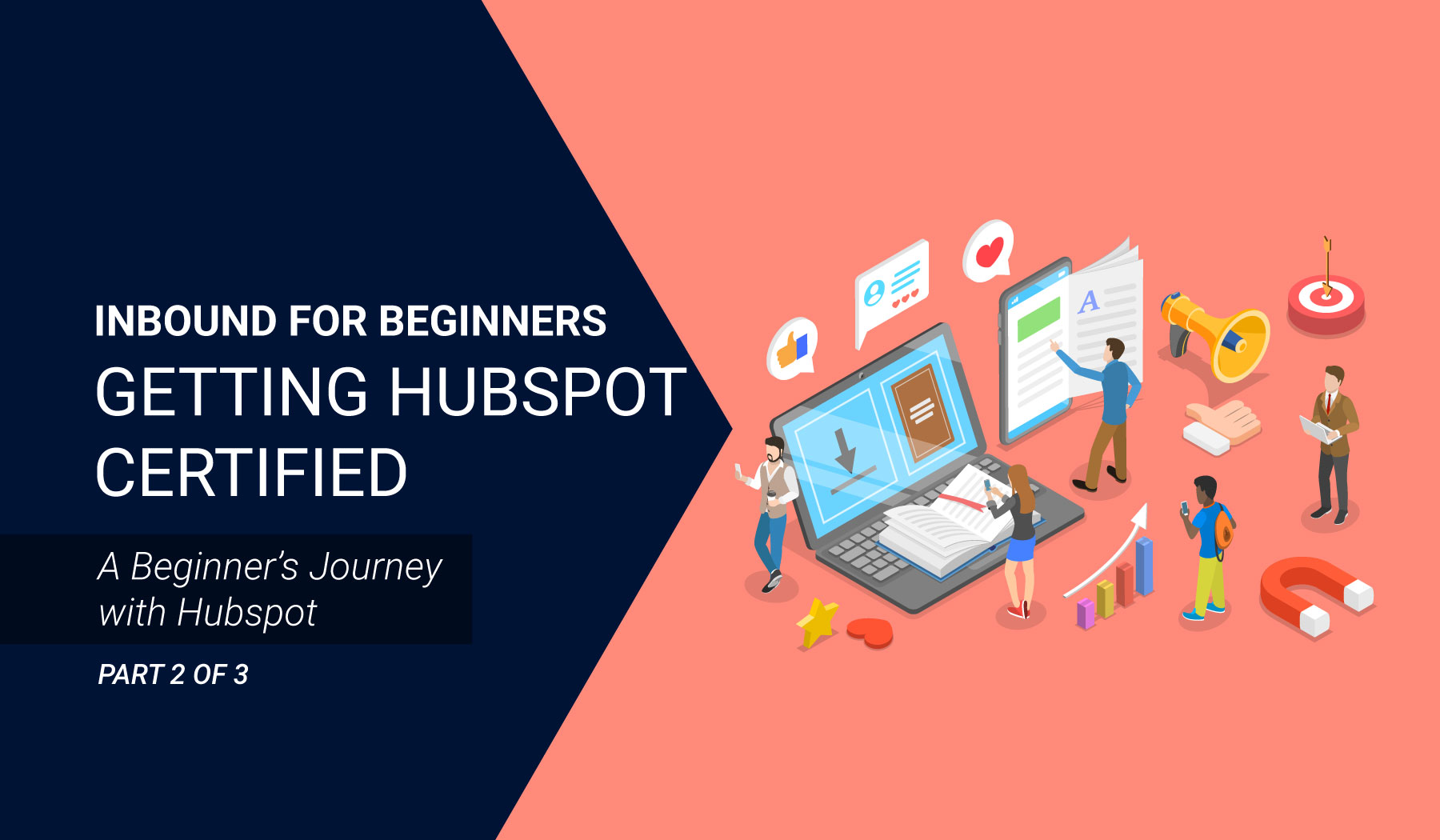 Inbound Marketing is largely synonymous with HubSpot, so that's where I am going to start.
HubSpot is so tightly related to Inbound Marketing, they even coined the term back in 2005 (History of Inbound Marketing: Then and Now) and have continuously developed this methodology - both in their products and in their online educational offerings like HubSpot Academy and Inbound.org. And don't forget their annual conference - which is of course, called Inbound.
While most of the information su
rro
unding inbound
and outbound marketing was provided by HubSpot and their partners, I decided to learn directly from the source. HubSpot Academy offers many course sections on inbound marketing, so I focused on what I thought would be the most relevant. I took the classes in this order, if you would like to follow along with me! These training courses are completely free, and can be helpful in many different ways, for many different learners.
Here's a summary of the main points of Inbound Marketing that I learned from these three courses that led me to completing two certifications in HubSpot. I have separated them by each video cluster topic, which will make it easier to follow along as we go.
[For a deeper discussion of what Inbound is, refer to the previous article.]
What is Inbound?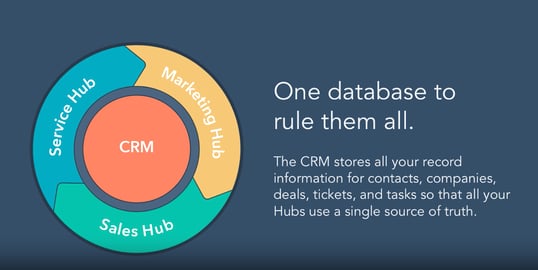 It is easy to understand that what is good for a customer is good for a business, when relating it to satisfaction levels. If a customer is happy with a service or product provided by a company, they will likely return to that business when they need this product or service again.
Inbound Marketing focuses on meeting the customers where they are, by halting excess interruptions, having conversations with customers instead of at them, and presenting choices along the way. Consider a taxi cab and compare that to Uber. Uber has worked to connect with their customers by considering their safety, security, and satisfaction levels, making taxi cabs seem dangerous and less transparent in comparison when a customer is deciding how to travel daily.
These are the main components of Inbound:
Module 1: Inbound Methodology
Inbound stresses the importance of customer service and satisfaction through every stage of the buyer's journey and every pipeline the customer may experience. Inbound implements alignment through attraction, engagement, and delight.
During the first stage, attraction, the business provides relevant and helpful information to the customer. The second stage, engagement, begins when a customer takes the desired action which builds the dyadic relationship making the business a resource. Lastly is delight, which is the stage that continues until the customer no longer needs the goods or services. In this stage the business works to provide excellent experiences through each interaction in hopes that the customers will become their promoters.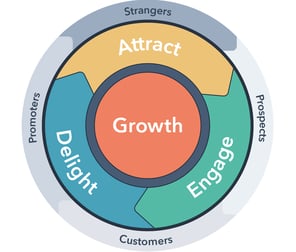 Module 2: Inbound Fundamentals
Inbound is all about growing better through creating and maintaining helpful relationships. Inbound is the opposite of Outbound - think of spam calls or emails. Inbound is seen as a better, more efficient way of selling and marketing services or products to customers, by understanding them and their needs.

Alignment of teams, information, and data of a business creates consistency through customer experiences. Inbound shows companies how to reach customers without sacrificing long-term relationships based off of short-term decisions. In today's society, the buyer is more empowered than ever.
Inbound is a philosophy based around helping people. Inbound is a way to share your knowledge with the world of customers on a site they frequently visit, building awareness and trust with prospects. It is knowledge monetization that focuses on empowering your prospects instead of bombarding them with interrupted experiences that force them to connect with a company. This ideology is more focused on how you sell, rather than what you are actually selling. Inbound works on evolving with your customers through alignment.
Module 3: Flywheel Model and Foundation
When considering the growth of a business, Hubspot introduces the Flywheel Model to explain how more attention on the customer equals more growth for the business. Existing customers of a product or service can influence new sales in two very different ways - promotion or detraction. This can happen through things like word of mouth. T
he Flywheel Model is better than just the funnel, which insinuated that the customers at the bottom of the funnel had nowhere else to go, which is certainly not the case.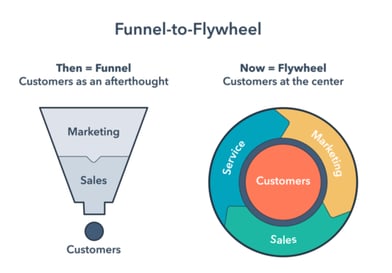 Module 4: How to Get Started
4.1: Identifying a Company's Purpose
When identifying your company's purpose, it is helpful to ask why the customer came to your business, how the business interacts with the customer and for how long, and what makes the customer choose your business over the competitors.
A company's purpose should be built around its culture. For example, Organic Endeavors implements growth throughout their website, solutions and processes, making it identifiable to their customers. This helps the business and customers relate to each other through shared values.
4.2: Setting Business Goal(s)
It is important to set a business goal to help create transparency across teams, set yourself apart from the competition, and uphold a consistent standard.
OKRs (Objectives and Key Results) are goal setting systems that help ensure a company is aligned and focuses their efforts and resources on the initiatives that drive growth. It's particularly important for revenue-driving teams like marketing and sales to have quantifiable goals to measure business, department, and individual performance.
Basic goals to set include lead generation, lead conversion rates, opportunity creation, opportunity conversion rates, and customer retention rates. HubSpot and many communication specialists use the acronym S.M.A.R.T. goals to help outline what a company's goal should look like.

4.3: Creating a Buyer Persona
A buyer persona is a semi-fictional representation of a business's ideal buyer based on date, interviews, and some educated guesses. This is the time where a business gets into the mindset of a potential buyer's wants/needs.
Just like most things inbound, it is important to involve the entire business when considering the buyer's persona. The sales team should not be the only viewpoint of the persona; instead a business should implement viewpoints from customer service representatives, sales peoples, marketing teams, etc. when creating this persona.
Start with defining the information of buyers to help the foundation. Next, identify what is the best way to obtain this information i.e. historical data, customer interviews, or educated guesses. Lastly, outline how the company will use this persona through inbound. Constant feedback is key to updating your buyer persona. HubSpot has created a tool where companies can learn more about buyer personas and generate their own customizable buyer personas.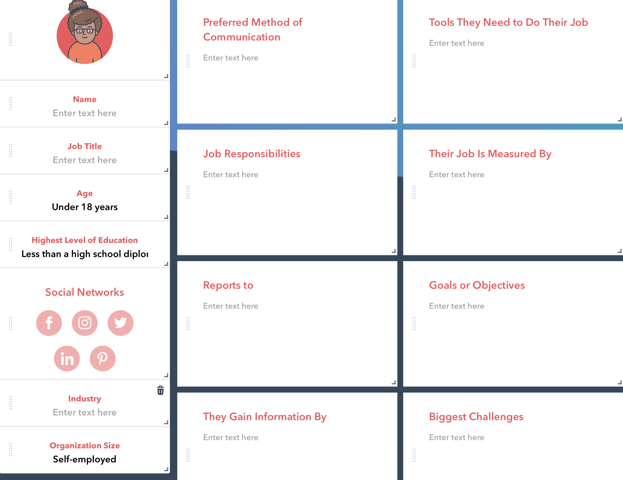 This is the template from HubSpot that outlines what is important to identify before creating a buyer persona. While this template has not been filled out, answering these prompts to the best of your ability can lead your organization to better identifying possible clients and what they specifically need help with. On Up Close & Persona, our partner MLT Creative, along with Ardath Albee, offers helpful tips, resources, and specified templates that have proven to be very useful for companies in the past.
4.4: Developing the Buyers' Journey for Your Business
The buyer's journey is outlined by three stages: Awareness, Consideration, Decision.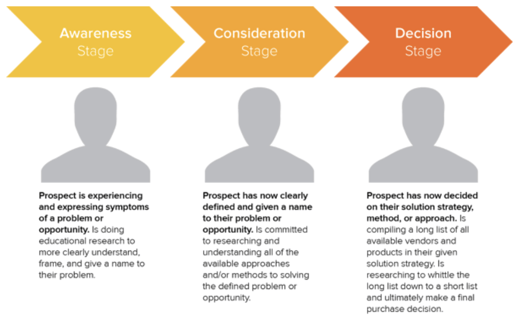 It is defined as the active research process the buyer goes through leading up to the purchase. In the awareness phase the buyer identifies their problems/needs, understanding their alternatives in the consideration phase, and comparing the options and making a choice in the decision phase. For a company to create this buyer's journey, they must first understand the buyer's purpose. Then they must develop the journey's stages around the company's needs and personal interests.
Module 5: Inbound Optimization
5.1: Planning a Long-Term Content Strategy
Content marketing is defined as the strategic marketing and business process focused on:
Creating and distributing valuable, relevant, and consistent content
Attracting and retaining a clearly defined audience
Driving profitable customer/client action
Content marketing is all about the customer(s) and what they value. This strategy focuses on building a relationship with your audience, ultimately urging them to trust your business. Content strategy tells a story during a buyer's journey. There are many ways to deliver content, like emails, blog pages, social media, etc., but first you must identify what your business's content is.
Making a plan and being consistent in the approach can give a business its best chance at receiving ROI from content efforts. Long-term content plans help businesses stay organized. The three steps to creating a long-term content plan are: setting marketing goals, auditing and assessing your organization's assets and initiatives, and developing the buyer's journey for each specific persona.
Hubspot provides a small video about topic clusters. This SEO strategy focuses on topics instead of key words. Strategies like this help companies organize content to distinguish areas of expertise and better understand relationships. Topic clusters can help organize ideas into long-term content strategies.
CEO of Publicis Media Americas, Tim Jones, gave great insight to Forbes on what will produce the best content in the new age of marketing in 2021:
"In order for brands to succeed in a platform world, they must be digitally-resilient, have identity systems to provide personalization at scale ,and have the infrastructure set up to deliver relevant and meaningful experiences."
5.2: Creating a Blog Post
A blog is a place to regularly publish and promote new content related to your business and industry. Blogs can help organizations by:
Attracting new visitors to their website
Creating new leads
Setting your organization above competitors
Building trust
Beginning relationships with prospects
Start a blog page by picking a topic, formatting the post, promoting offers to increase lead generation, and lastly optimizing the post. Finding out what your prospects are looking for can be a great place to start.
Keyword research can be helpful in this aspect. One long-tailed keyword can help keep your post focused on the specific goals of the audience. A working-title for a blog can help you work off of the specific blog topic in more detail. Bolded words that create titles and subtitles, featured images, and use of whitespace are ways to format your blog page. Formatting can be distracting, so it is important to identify what is most important in the specific blog post and build around that.
To promote business through blog pages, CTAs have proven to be useful. Optimization is focused around the long-tailed keyword through the title, body, URL, alt-text, and meta description. Blogging is a smaller part of creating content strategy for your business. For a more detailed description, with hands-on activities, visit HubSpot's How to Create Detailed Buyer Personas for Your Business [Free Persona Template].
5.3: Understanding Social Media Promotion
Social media promotion is not about eliminating inbound strategies like email, but is instead more focused on adding extra resources for your organization. Having a social media strategy can help:
Expand other marketing efforts
Build brand awareness
Drive word of mouth marketing
Attract prospective long-term customers and/or one-time customers
HubSpot offers an awesome training class on social media marketing where you can get certified for free. Facebook, Instagram, and Twitter are three platforms that help grow your inbound marketing outlets. Social media can help connect sellers with buyers around the world on a one-to-one relationship basis. There are many benefits of social listening like watching your competition, creating leads, and setting strategic marks.
Monitoring is the way of actively looking for mentions of your brand, products, hashtags, employees, customers, and competition. Engagement is having conversations with individuals about your industry, brand, products and services. These are both great ways to get a jump on your competitors and build loyalty within your brand.
Auditing social media can lead an organization to developing and adjusting, discover trends, receive valuable feedback, and manage future promotion. Here are some great sites for social media promotion, and I have attached some great blogs on how they have been successful:
5.4: Developing a Conversational Growth Strategy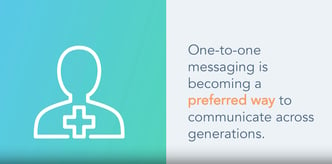 Having a conversational growth strategy is about catering to your website audience and ensuring that they can connect and engage with your company using channels they understand and commonly visit. Developing content through many different channels helps strengthen your inbound marketing efforts by creating reliable and specific content through every channel, every time.
There are three steps to implementing this strategy: think, plan, grow. It is important to start with analyzing how your customers communicate with your business. Find out where your clients are, how they prefer to communicate, and what works best for your own team. These answers can help your company decide what strategies may be best for your growth.
5.5: Understanding Conversion Strategy
A conversion is defined as a moment when a website visitor takes a desired action. Understanding your clients allows a business to continue to supplement their online and buying experiences in a human, helpful, and holistic way.
Conversion is intrinsically tied to data because conversions are only tangible if they are measurable. Conversion paths are steps carefully designed to lead website visitors through your site, and for website visitors to interact with the variety of content at their own disposal.
5.6: Understanding Lead Nurturing
Lead nurturing answers the question, "How do I connect with my prospects and turn them into customers in the most helpful way?" HubSpot defines lead nurturing as the process of building relationships with your prospects with the goal of earning their business when they're ready. From a marketing standpoint, it focuses on creating relationships with prospects in a way that encourages them to use your products and services.

Lead nurturing falls into play during the engagement stage and is a way of communicating in a timely, efficient, and targeted manner. There are three elements of a lead nurturing strategy--contact management, segmentation, and the buyer's journey. For a more detailed outline of lead nurturing through HubSpot, visit this blog from another HubSpot user.
5.7: Applying a Customer Marketing Approach
HubSpot explains that with today's empowered buyer, your best marketing channel is actually your existing customers and when your customers succeed, it's your best predictor for business growth.
Your existing customers will help prove your brand values. We have learned about word-of-mouth and how helpful it can be bringing in future clients. Establishing trust before, during, and after the buying experience can help promote your brand and personalize the customer's experience. Instead of viewing customers as numbers, a company should understand what each specific customer needs. Retaining customers is much cheaper than marketing to find new clientele.
Empathy is an integral part of the customer service experience, whether that be through personal use of your company's products/services or placing yourself in the mindset of a customer. Using open-ended questions can gain more insight than multiple choice questions. HubSpot notes that your business' number one priority should be to serve people i.e. customers, employees, prospects, etc.
Segmentation of customers can help break down your contacts into groups of similar people, so your company is making the buying process easier, without regressing. Providing social media support is another way to solve for customer success. Lastly, creating customer-specific content will make customers feel valued, providing solutions for customer success.
Organization is key in inbound marketing. Understanding your prospects and aligning their specific needs throughout every channel can make or break a company's brand. HubSpot conducted a survey in which customers reported:
94% of customers have discontinued communication with a company because of irrelevant messages or promotions.
74% of customers are likely to switch brands if they find the purchasing process too difficult.
51% of customers will never do business with that company again after ONE negative experience.
93% of customers are likely to be repeat customers with a company that has remarkable service.
So, after three hours of lecture and an hour-long certification exam, I was officially Inbound Marketing certified by Hubspot! Though it seemed overwhelming at first, Hubspot explained things in great detail so I wasn't really left with any questions. Now that I understand the fundamentals of Inbound, it was time to learn how to apply this knowledge using the HubSpot software.
Follow me to my next blog where I explain how to use the Marketing Hub and all the extra tools HubSpot supplies for growth and development.