7 min read
Inbound for Beginners: Using HubSpot the First Time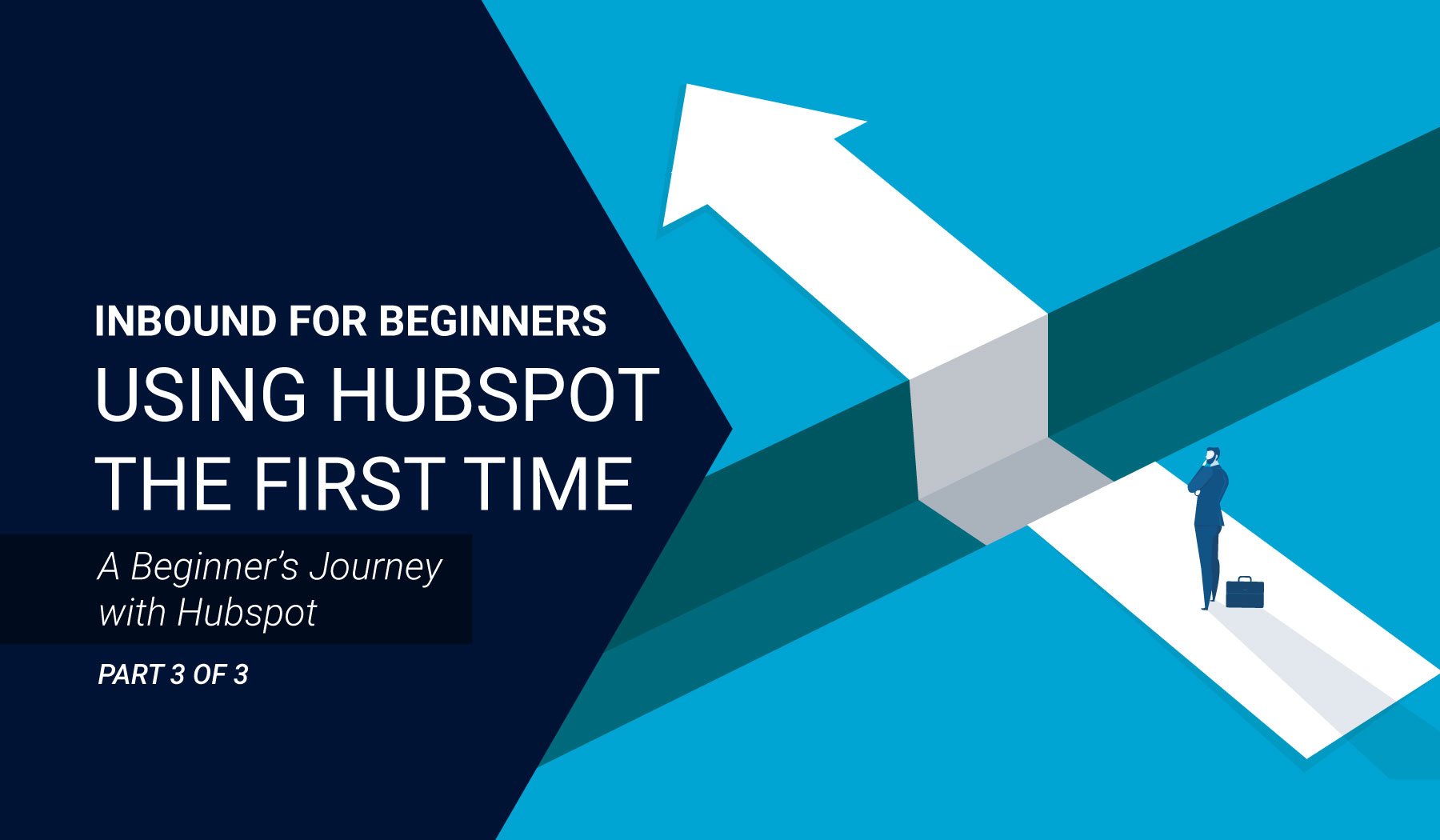 This article details how to implement the Inbound techniques we learned about previously into your own HubSpot account. In this section, I will list step-by-step actions that you can take to integrate your organizational data from marketing, sales, and services into HubSpot. These steps will help your organization continuously grow and develop without putting in extra hours daily.
Setting Up Your First Campaign
In order to do Inbound Marketing the right way, your company should set up your marketing hub in a clear and standardized manner. Approach each marketing strategy step with a campaign mindset, and understanding that to develop great relationships with prospects you must connect every tool, channel, and action you organization uses.
This course equips you with the fundamental understanding you need to do marketing well using HubSpot software.
1.1: Understanding the Marketing Hub
The term "hub" refers to a group of tools in a related area of work. The marketing hub is used to grow traffic, convert leads, and improve ROI. Specifically defined goals and metrics, or key performance indicators, help break down long-term strategies into smaller components your marketing team can focus on. To set reasonable and attainable goals, your marketing team should:
Identify current performance before setting new targets

Determine where there are gaps in current processes or content to identify opportunities for growth

Create detailed marketing productivity plans to address current, specific gaps
1.2: The Contact Database in HubSpot
Your contact database is the foundation that your organization will refer to when managing everyday interactions, through personalized experiences, in a scalable way for your growth. Your database supports relationships, records information, and compiles the tools you need to execute your campaigns.
The contact database is built upon your CRM, in our case HubSpot. It is vital to keep your contact database clean and organized while customizing all of the information your organization is collecting. HubSpot will record some information on your contacts, but it is dependent on the organization to collect more information through personalization, or collecting data to use for contextual, meaningful communication with your contacts. This can be through forms, buyer personas, or other activities they've taken.
1.3: Using Buying Personas in HubSpot
We discussed the importance Buyer Personas in the previous blog, but to begin setting them up in HubSpot you go to:
Settings>CRM>Properties>Persona (Contact property)
Fill out form about the persona (internal notes and short story)
Select the box to automatically create smart list for persona
Save your buyer persona into HubSpot
Most organizations should tend to 3-5 different buyer personas. This helps the organization identify and understand their specific audience by categorizing them in a helpful and holistic way. By asking who you are trying to reach based on real data, demographics, behavior patterns, motivations and goals, your organization can begin creating more positive and lasting relationships. A great way to understand your buyers is by asking them to take a survey based on their needs and experiences. Survey Monkey has a survey outline to help organize your customers into their buyer personas.
Buyer personas have proven to be useful in many ways with statistics to back it up.
1.4: Understanding Blogging in HubSpot
Blogging is another way to create content for your company or organization. For obvious reasons like lead generation and conversion, blogging can be a way to answer questions that your clients may have in a timely manner. To start creating your first blog in HubSpot, go to:
Marketing Tab>Website>Blog
Create>Blog Post
HubSpot's blog page is a lot like creating a Word document. You can select font, size, color, and type of text. There are different header styles that you can choose from, ways to implement links and images, and the possibility to update after publication in case there is new research to add onto your blog!
If two or more people have been working together to create a blog for their website, my best advice is to create a Google Document, where many people can collaborate, and then merge this document into HubSpot's blog. To do this, you must first create the blog in HubSpot, select the Advanced tab in editing the blog, and choose to merge over the correct document from Google. This is the most seamless way to get your information and links into HubSpot's blog.
Then you can implement calls-to-action, tables, videos, anchors, forms, and much more in HubSpot. After editing and optimizing your blog, preview your blog on multiple devices to make sure all of your information is visible and links are active.
Blogs are among the primary three forms of media used in content strategies today. (HubSpot, 2020)

18% of marketers choose Wordpress as their website content management system (CMS). (HubSpot, 2020)
1.5: Understanding Segmentation in HubSpot
The Inbound methodology prides itself on the happy marriage of context and contacts. Segmentation brings together the information your clients need by separating your contacts into smaller groups of similar people. This presents your organization with the opportunity to tailor messages to these specific audiences creating a more human and holistic experience.
The segments your organization outlines are helpful in telling your clients the right stories, at the right time, in the correct manner. To build segments, begin with separating your subscribers, leads, and customers. These are referred to as life-cycle segments, and every organization using Inbound should have them. These stages are designed to assign the stage your conversations are at with your current contacts.
Your organization's buyer personas are also great foundational segments to implement within your HubSpot account. These segments are easy to build upon. Another common way to implement segmentation is by separating your contacts by the products you sell.
Saved Filters

- Quickly view a segment of your database right from contacts, companies, deals, or tickets dashboard

Not automatically updated

Active Lists- Contacts added/removed automatically based on criteria you set
Statics Lists- Snapshot of a group of contacts who meet certain set of criteria at a certain time
To create segments: Contacts>Lists>Create List>Name List (active/static)> Next>Filter>Contacts>Contacts>+Add View>Create New View>Create Name>Save>Filter> Add Contacts>Save View
For a more in depth view of segmentation in HubSpot, check out this blog from another HubSpot user!
1.6: Understanding Social Media in HubSpot
HubSpot can help jumpstart your social media pages in multiple ways by expanding your marketing efforts, building brand awareness, driving word of mouth traffic, attracting buyers, and creating direct conversations with customers/prospects. Having your buyer personas and business objectives in mind are helpful when building social media strategies/campaigns.
To understand how useful social media can be to your campaigns, I have outlined some data from HubSpot.
Facebook is the primary content distribution channel for marketers today. (HubSpot, 2020)

18% of marketers currently use Facebook Groups.

(HubSpot, 2020)

Instagram is the social channel with the second-highest ROI among marketers. (HubSpot, 2020)

Facebook, Instagram, and Twitter lead the pack as the most common social media platforms used by marketers. (HubSpot, 2020)

Social listening is the number one tactic used by marketers. (HubSpot, 2020)
1.7: Understanding Workflows in HubSpot
Marketing Automation technology makes delivering content easier, at the perfect time. One tool of marketing automation, a HubSpot automation tool, is workflows--a series of automated actions that trigger based on a person's behaviors or contact information. By using tools like workflows in HubSpot, your company can execute many task and/or goals.
Marketing automation can be used to help internal communication and align marketing, sales, and services. It is also supportive in campaigns by executing actions that are scheduled tagging information like emails to these actions. The workflow tool was created by HubSpot to help scale without losing the helpful and human experiences that help the customer's growth.
To create a workflow from scratch in HubSpot:
Automation>Workflow>Create Workflow>Name>Choose Type (Start from scratch)>Select object>Trigger Automation through Filters>Submit
After submitting your workflow, it is time to create goals for the workflow. By selecting Create Goals while making your workflow from scratch, you can select actions that will be added to your contact's workflow. These actions will automatically halt once they have been completed.
To time your actions, you can select New Action+ below your new goal. In this section, there are ways to create task, automate emails/sms messages, and time your workflow by adding delays. You can place additional settings to your workflow by going to settings and selecting the times, personas, and campaigns you would like to target.
.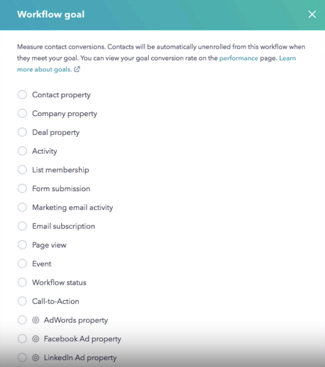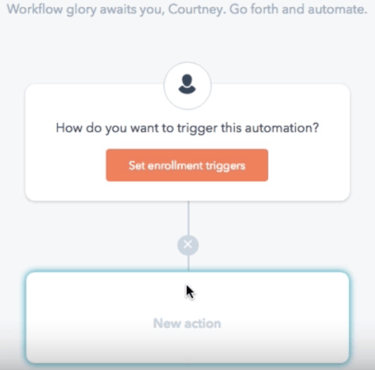 There are also four new templates provided by HubSpot that are useful to implement if you have not already created a workflow.
Conclusion:
These are just a few examples of how to use HubSpot's marketing hub to help create personalized, relevant experiences for each customer that comes in contact with your organization. HubSpot makes integrating data easy to build a holistic, scalable approach to reach wide varieties of users. To learn if HubSpot could be a fit for your business, contact us to discuss the advantages of using one CRM platform for all your marketing, sales, and service needs.